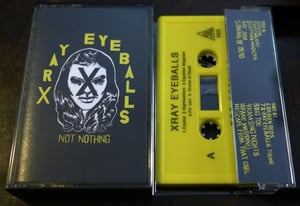 $

3.00 - On Sale
NOT NOTHING, the debut LP from Brooklyn's X RAY EYEBALLS on cassette tape. Just released on Kanine Records, this amazing party album is a grab bag of fuzzy-JMC-tinged jems.

Some recent words about the LP ::
" the slowed surf-rock chug and garbage incinerator guitars of prime-era Jesus and Mary Chain. It's a homage so direct, so on-the-money, that it could easily be dismissed were it not for San Felipe's nasally, almost cartoonish whine and an irresistible vocal melody." - Pitchfork
"Start with the idea of '80s punk and post-punk inspired by '60s pop. There's a bit of that Jesus and Mary Chain junk-sick Beach Boys sound and touch of Suicide's no wave pop. The beauty of it is that sometimes it sounds much more like a '60s-does-'80s thing than the other way around.....Not Nothing is a well-crafted document too. All the songs really work to justify their place on the album, like separate facets of a cloudy gem...all eleven of your new favorite summer jams." - MTV Iggy
"X Ray Eyeballs are so garage that you can hear the lawnmower and gas can in the corner adding their own sympathetic vibrations. Their sludgy mix is thick with guitar fuzz and subway wall vocal echoes. Like Thee Oh Sees, Xray Eyeballs pound their way through low-fi garage rock. The standout difference is that they have an affinity for early '80s post punk riffs." - Jester Jay
"There's a kitsch quality to these songs, many of which are criminally catchy. The Wall of Sound-saluting "Big Toe" would make Phil Spector proud, joyously calling to mind the intro to the Ronette's "Be My Baby." Only thing is, this baby has teeth that bite...with Not Nothing, it's fair to say that Xray Eyeballs are on to something, and their dark future looks positively phosphorescent." - Disorder
Held at a one time pressing of 100 cassettes on yellow tapes.
International orders email me :: whoawhoarecords@gmail.com