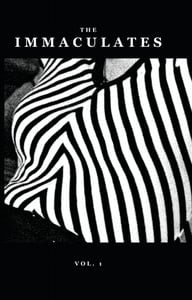 $

3.00 - On Sale
The Immaculates are Cyrus, Jay and Matt, NYC's premiere funk-soul-party band. These guys come with a warning from the government :: do not ingest, unless your down to get down! Volume 1 is a collection of 3 beautifully recorded jems and 3 live jams to give you an idea how these dudes get the dance floor packed.
Some kind words about THE IMMACULATES ::
There is something special about New York three-piece The Immaculates, and it's not simply that they'll be dressed in Sunday's best when you catch them live. Armed with bass, drum and vocals, when a blistering throwback to classic soul erupts from the stage, you are left with nothing to do but dance. - RCRD LBL
There's as much Iggy Pop and The Sonics as there is James Brown to front man Jay Heiselman's smoker's yowl, and the three members each do their best to embody the epitome of vintage cool, right down to their matching black-and-white suits. - Refinery 29
Along with the very intentional inflections of 60s soul bass lines and beats, Jonathan Richman should be proud of the fact that in 2011 there's a band that'll be drawn along by the charisma of the vocalist. The band's live show is already an instant hit, and not just for the whiskey swiller on the side of the stage who keeps the tambourine safely packed in a briefcase until needed. - Impose Magazine
[They] bring all the kiddies to the dance floor. Yes, even those pretentious fucks who stand near the back with their arms crossed. A strong 60's influence looms, with a touch of NY no wave—intellectual, but accessible. The lack of a keyboardist or a James Brown-like horn blast only amplifies those grooving basslines. The Immaculates like to keep it simple with bass, drums, and vocals, and they leave you wondering why anyone would ever add anything else. - Get Bent
Held at a one time pressing of 100 cassettes on blue tapes.
The Immaculates are available for parties.
International orders email me :: whoawhoarecords@gmail.com