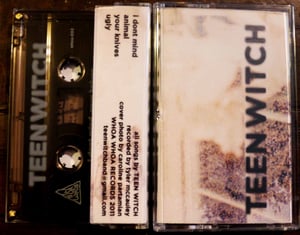 $

3.00 - On Sale
Totally rockin! This self-titled debut EP consist of four in your face jams all on a one sided tape! Unabashed and incredibly loud, especially for just a two piece, Teen Witch, which is Tyler McCauley (ex-Tempo No Tempo) & Caroline Partamian (The Splinters/Lady Dracula), take you on a intense roller coaster ride of gnarly solos, boisterous vocals with a mashup of west coast cool & east coast attitude.
:::
"These guys play that Oakland/SF pile-driving fuzz-pop à la Coachwhips and would be totally fitting to see on a bill like Gonerfest." - Daed Pizza
"On "I Don't Mind" Caroline's vocals oscillate between brickbat punk and Slumberland-pretty, with Tyler pointing to Butch Vig-era grunge as a key influence. Teen Witch sets the bar high." - Refinery 29
"The Teen Witch cassette consists of nine minutes of in-yo-face mind-melting garage rock jams. Loud: check. Noisy: check. Sweet ass guitar solos: check.check.check. Good thing the tape's one-sided because I don't know if I could handle two rounds from an audio assault of this magnitude — it's THAT intense." - Part Time Music
"The track that really has me moving is "I Don't Mind" by Teen Witch. It's a haunting goth surf song with 60's garage roots. The duo of Tyler and Caroline, from one of my favorite, favorite bands The Splinters, packs a huge punch, making you really question how they could project such a dynamic sound with only two members." - Get Bent
:::
Held at a one time pressing of 150 cassettes on smokey black tapes. Comes with digital download.
International orders email me :: whoawhoarecords@gmail.com
AVAILABLE TUESDAY MAY 17, 2011