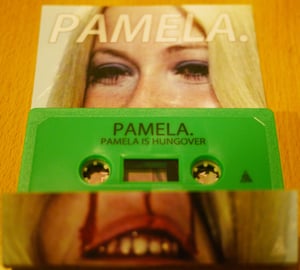 $

3.00 - On Sale
Ashley Thomas and Courtney Gray (both of the Splinters) are really frustrated with boys, life and don't have the patience to deal with bullshit. So instead of pouting about it, they decided to jam on the sweet nectar of rage filled garage (s)punk. PAMELA IS HUNGOVER is their debut EP, and they wanna party if your down, but if not, than get the fuck outta the way.
:::
"...misandry through Suzi Quatro-approved Marshall stacks..." - Impose Magazine
"...("Nobody" is) a clashing, cathartic 90-second jam that crescendos with a sort of failed plea: "I want to open you up/But I can't."" - Positive Destruction
"Pamela is my favorite band!" - Caroline Partamian (Lady Dracula)
"Each song clocks in at just about two minutes and is jammed packed with destructive power. I can't wait to slap this tape in my Walkman and stalk the mean Mormon streets of Salt Lake City." - Part Time Music
"Pamela's crushing yet eloquent honesty and attitude that has me hooked. Plus, they're really sweet so be sure to keep them on your radar." - Night Fog Reader
"I think if the movie Carrie resolved with her forming a garage band instead of burning everyone in her school to death, the resultant music (Pamela) would still not be as dismal or have as much momentum as the punk dirges present here." - Get Bent
:::
Held at a one time pressing of 100 cassettes on green tapes. Comes with digital download.
International orders email me :: whoawhoarecords@gmail.com